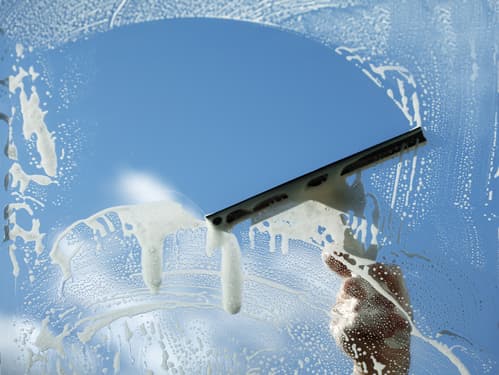 If you're in need of professional window cleaning in San Diego, the name to remember is Power Jet Pressure Washing Service. Pollen, water stains, and all other manners of blemishes are bound to affect your windows' look and performance over time, but cleaning will get them back in shape in no time. The quality work we provide will help you enjoy many positive benefits, such as the following:
Your property's curb appeal will improve
Your windows will perform better, helping to lower energy costs
Routine cleaning will expand your windows' service life
Our top-notch pressure washing company is dedicated to providing the best results possible for all your window cleaning needs. Please give us a call today to schedule your next cleaning. We'll be sure to work around your schedule to make this work as convenient for you as possible. We're also happy to quote a free price online or over the phone to help you budget for the work.
Residential Window Cleaning: Revitalize Your Home's Exterior
When your windows look clean, your entire home is going to look clean. Unfortunately, while it's simple enough to clean the interior half of your windows, you may find it a bit challenging—even prohibitively so—to provide that same quality of cleaning to the outer half.
You don't need to fret yourself over your windows' exterior cleanup, though—not when you can always leave that work in our hands. With routine window cleaning, we'll help to ensure your home always looks its very best. Consider pairing this service with a roof cleaning to get your home looking stunning from top to bottom.
Commercial Window Cleaning: Simplify Your Business Cleaning Needs With Our Window Cleaning Experts
Appearances are everything in the business world, so maintaining a beautiful workplace is essential. Of course, you may not have the time, resources, or manpower needed to keep up with your commercial property's exterior cleanup. This can leave you with a place of business that may very well deter potential customers.
If you don't have the means to maintain the look of your workplace, that's no problem. We do, after all, and one of the ways that we keep your commercial property looking great is with commercial window cleaning. Clean windows will make your business stand out, and they will also work more efficiently, helping to reduce your energy costs and, in turn, maintaining your bottom line.
Industrial Window Cleaning: We Make Facility Exterior Maintenance Simple
In an industrial setting, visibility is vital for ensuring that workers are able to do their jobs not only efficiently but also safely. Of course, there are many precautions you can take to maintain optimal visibility: install sufficient lighting, invest in bright epoxy flooring, etc. However, one of the most effective and affordable ways to maintain ample visibility in your industrial workplace is to keep the windows clean.
Now, we understand that your team members have enough on their plates without adding window cleaning to their to-do list. So, we offer industrial window cleaning. With this service, we'll allow plenty of natural light to pool into your industrial workplace, and your employees won't have to put off what they're doing just to handle this chore.
---
Recent Articles & Tips
Advantages Of Roof Cleaning

By maintaining your roof with routine roof cleaning, you'll also be maintaining the overall look and well-being of your San Diego home. Over the course of time, exposure to the elements can cause you […]

Pressure Washing To Get Your Home Sold

When you decide that you're ready to put your San Diego home back on the market, take some time beforehand to get it market-ready with professional pressure washing. This work is affordable, and it c […]