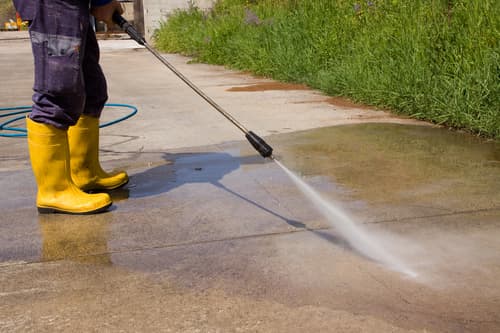 Your driveway will remain subject to all sorts of factors that can leave it stained and unsightly, resulting in reduced curb appeal. Fortunately, you can get your driveway back in shape in no time by investing in professional driveway cleaning from our San Diego professionals. This work will thoroughly remove all manners of blemishes:
Oil
Hard water
Rust
Bird droppings
Pollen
Grimy buildup
And more
For first-class pressure washing, look to none other than Power Jet Pressure Washing Service. We provide quick, high-quality work when it comes to driveway cleaning to help your driveway look its best. Give us a call today to get a free quote for your next residential pressure washing.
Driveway Cleaning Offers Some Compelling Benefits
A dirty driveway is more than an eyesore: It's also a safety hazard because of slick oil spots and algae growth. The good news is our driveway cleaning will get your driveway looking its best once more while removing the harmful growths, helping you to enjoy a bevy of great benefits:
Removal of slippery surfaces makes your driveway safer
Your curb appeal will improve with a clean driveway
You can expect a longer driveway service life with routine cleaning
Leave Your Pressure Washing Projects in Our Dependable Hands
We proudly handle all of your residential pressure washing needs, of course, but did you know we also offer soft washing services? Yes, that's right: From roof cleaning to house washing, we handle a variety of soft washing projects to make your home look its best without causing any damage.
Whether you're in need of pressure washing or soft washing, our San Diego team will be there to provide the best and most stunning results in the area. Just a quick glance through our gallery should be all the proof you need to agree that we're the pressure washing professionals you can count on in the area.
---
Recent Articles & Tips
Advantages Of Roof Cleaning

By maintaining your roof with routine roof cleaning, you'll also be maintaining the overall look and well-being of your San Diego home. Over the course of time, exposure to the elements can cause you […]

Pressure Washing To Get Your Home Sold

When you decide that you're ready to put your San Diego home back on the market, take some time beforehand to get it market-ready with professional pressure washing. This work is affordable, and it c […]