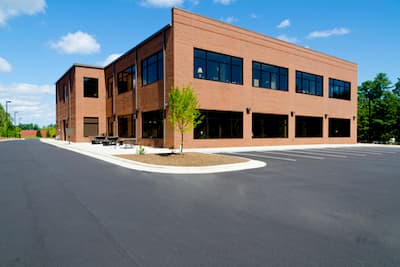 If you're in need of niche exterior cleaning services for your San Diego business, the company you can rely on is Power Jet Pressure Washing. Our top-rated company offers a line of specialty pressure washing services to meet even your most obscure need. Call us today to get a free quote for any of the specialty services we offer:
Hospital Emergency Room Exterior Entrance Cleaning
In a medical setting, cleanliness isn't for simple aesthetics; it's also for ensuring patients remain healthy and free of unnecessary infections. This quality of cleanliness should be practiced both inside and out.
When it comes to the outer half of a hospital, you can count on our specialty pressure washing company to keep things clean with hospital emergency room exterior entrance cleaning. We provide quick yet thorough work for this service.
Concrete Pad Cleaning
A slippery concrete pad makes for an unsafe work environment, and unfortunately, oil slicks and other inevitable buildups are going to render many concrete pads unsafe. When this happens, just give our specialty pressure washing company a call.
We'll get the area cleaned up and safe once more with concrete pad cleaning. By having this work handled on a routine basis, you can ensure any concrete pads your team members need to work on enjoy the safest possible work environment.
Gas Station Pressure Washing
Naturally, over time, a gas station is going to become stained with gas, oil, and other substances. Of course, since those substances are highly flammable, it's important to have your gas station's exterior cleaned up on a routine basis.
When you need your gas station cleaned, look to us for a gas station pressure washing. Our industrial pressure washing team will blast away all manners of flammable buildups, helping to make your gas station as safe as can be once more.
Dirt, Smog, & Cobweb Buildup Removal
Dirt, smog, and cobwebs can render an otherwise beautiful industrial environment an unsightly eyesore. This eyesore can reduce your property's curb appeal and even resale value.
So, it's of the utmost importance that you have these buildups removed thoroughly. If you're looking to rid your industrial property of these buildups, look to our specialty pressure washing company for dirt, smog, and cobweb buildup removal.
Rust & Stain Removal
Rust and stains are, of course, unsightly, but more than that, they can be damaging to your industrial property as they eat away at metal installations. Naturally, this makes it a priority to have rust and stains thoroughly removed from your property.
If you're in need of rust and stain removal, our pressure washing team is the one you can count on to get the job done. We promise quick work and quality results to keep your property beautiful and protected.
---
Recent Articles & Tips
Advantages Of Roof Cleaning

By maintaining your roof with routine roof cleaning, you'll also be maintaining the overall look and well-being of your San Diego home. Over the course of time, exposure to the elements can cause you […]

Pressure Washing To Get Your Home Sold

When you decide that you're ready to put your San Diego home back on the market, take some time beforehand to get it market-ready with professional pressure washing. This work is affordable, and it c […]